Harborside Resort at Atlantis Bahamas is the perfect family vacation destination. The resort is bursting with activities and there is something for all ages. The Harborside Resort is a great base for your family – in addition to all the amenities of a top hotel, you have full access to the huge Atlantis Resort right on your doorstep. You and your kids will love the massive variety of activities available including water slides to pristine beaches.
Atlantis Bahamas is a self-contained resort with everything you could ever need all located on the sprawling Paradise Island. You don't want to miss anything while you're there, so we've collated our list of the top ten things to do at the Harborside Resort at Atlantis Bahamas:
1. Float On the River Rides at Atlantis Bahamas Aquaventure
Atlantis Bahamas has two river rides. One, The Lazy River, is more relaxed, and the other, The Current offers a more exciting experience! The Lazy River follows a leisurely quarter mile loop surrounded by leafy foliage, whilst The Current is a much longer adventure featuring white-water waves, tunnels, and slides.
2. Get a Thrill on the Water Slides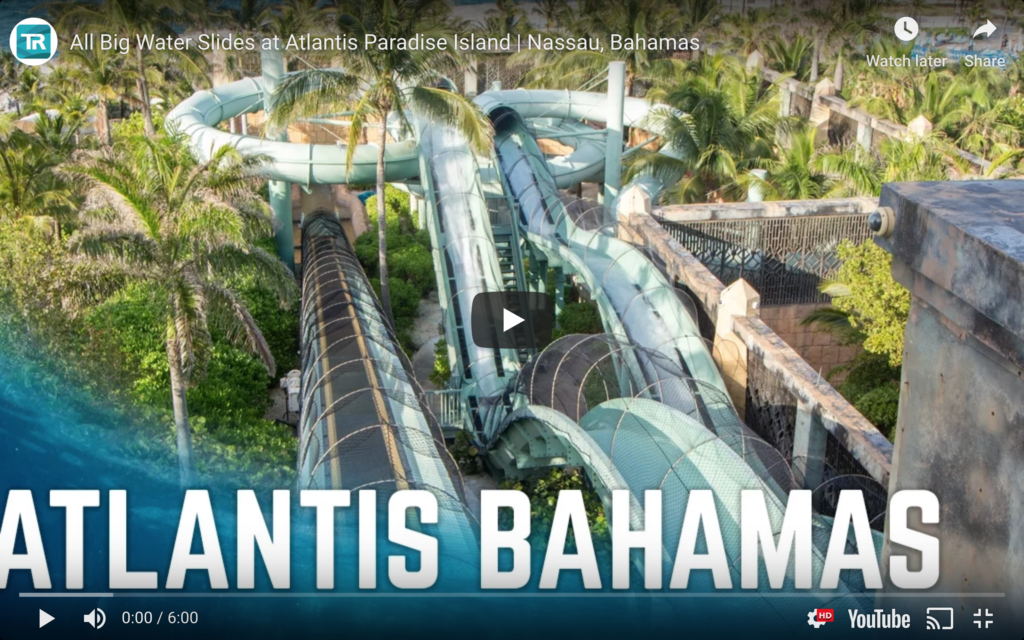 After you've warmed up on the river rides, take the opportunity to get some thrills on one of the many water slides at Atlantis. There are two main types of ride at Atlantis Bahamas – free rides and tube rides.
Our favorite free ride is The Leap of Faith, where riders plunge down a near-vertical drop before shooting through a clear tube surrounded by an aquarium populated by barracuda sharks. Not for the faint hearted!
The tube rides are a little slower, and most end up in The Current lazy river. Our favorite is The Surge, which offers panoramic reviews of the resort before looping riders down through a subterranean cavern.
3. Check Out The Dig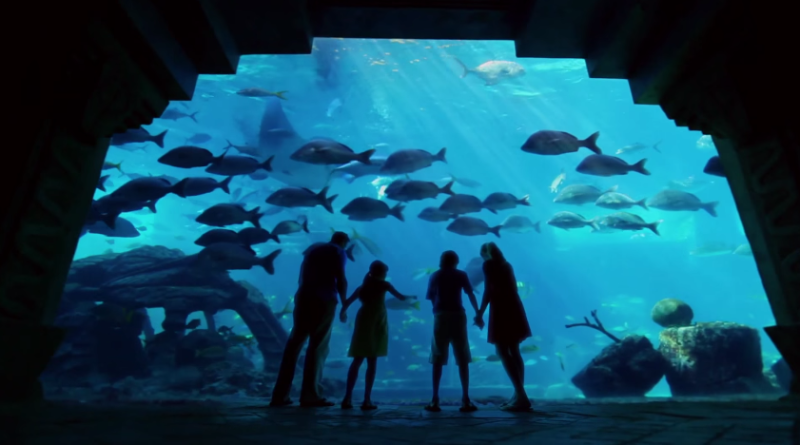 The Dig is where the Atlantis legend comes to life. Guests follow a series of underwater streets and tunnels surrounded by every type of marine life imaginable. Special exhibits at The Dig include Seahorses, Clownfish, and Lobster exhibits. If you time your visit right, you'll even get to see a live feeding!
The Dig is open 24/7, and is free for all Harborside Resort at Atlantis guests. Many will wander the passages of The Dig many times over the course of their stay at Atlantis Bahamas. Younger kids in particular love the interactive aquarium and overall experience of The Dig. Find out more about The Dig here.
4. Explore The Marina Village
The Marina Village is home to many of the best shops and restaurants at the Atlantis Bahamas Resort. Marina Village is located right by the Harborside Resort, so you'll enjoy plenty of dining and shopping options just a short stroll away. There's options for everyone, from quick bites at Marina Pizza to gourmet fine dining restaurants like Cafe Martinique. Shopping destinations include popular brands like Pandora and boutiques like Blue Moon Resort Wear.
Our favorite restaurant at the Marina Village is Carmine's – a great spot for old school Italian food served family style. With huge portions of Italian classics, you'll be sure to have plenty of leftovers to take home. Check out our guide to more restaurants here.
5. Try Your Luck at the Atlantis Casino
Atlantis Bahamas is home to the premier casino in all of the Caribbean, and the events, tables, and sports book are a major draw for many visitors. There are 85 different Gaming Tables and over 700 Slot Machines. The most popular games include Roulette, Blackjack, Craps, and Poker.
With complimentary gambling lessons held every day, even novices can enjoy the casino. Check the Daily Atlantean for times. Even if you're not a gambler, you can soak up the atmosphere and admire the casino's renowned design, which features striking glass structures in bright colors surrounded by lagoons and marine life.
6. Drop Your Kids Off at Atlantis Kids Adventures
Atlantis Kids Adventures, the kids club at Atlantis Bahamas, is a great opportunity for your kids to make friends during your vacation. Activities are available throughout the day, with age-appropriate programming for toddlers to teens. Younger kids can participate in themed events every evening, whilst older kids and teens will enjoy hanging out at custom-built spaces decked out with gaming consoles, live DJ's, and movies.
7. Get a Round In at the Atlantis Golf Course
The idyllic Ocean Club Golf Course is a challenging Par 72, 18 Hole course located right on Paradise Island. Designed by Tom Weiskopf, the course hugs the Paradise Island coast line, creating challenging conditions for even the most seasoned of golfers. Call ahead to reserve your tee time, and spend a day challenging yourself on one of the Caribbean's very best golf courses.
Visit the site here for more details.
8. Head to the Beach For Some Relaxation
The Bahamas is famous for its beautiful white sand beaches, and at the Harborside Resort at Atlantis Bahamas, you'll enjoy several beautiful beaches within easy walking distance. Paradise Island boasts 5 miles of beaches, and guests at Atlantis Bahamas have quite the selection to choose from.
At the heart of the resort is Atlantis Beach, an action packed beach where local vendors offer Jet Skis, Banana Boat Rides,and Parasailing. These vendors aren't affiliated with the Atlantis Resort, but they're reputable, follow safety guidelines, and are licensed by the local government in Nassau. For quieter, more relaxing beach scenes, be sure to check out The Cove Beach and Paradise beach.
Families with young kids may also want to check out the Lagoon Beach, which offers paddle boards, snorkelling, and other water sports in a safe, man-made environment right in the middle of the resort.

9. Chill by the Pool
There's many pools to choose from at the Atlantis Bahamas Resort. The resort offers 20 different swimming areas and 11 pools, each with a distinctly different theme. There are swimming areas spread across the Atlantis Aquaventure, and each of the hotels has their own pool. The adults only Cove Pool is a sophisticated spot boasting live DJ's, daybeds, and outdoor gaming tables.
Guests at the Harborside Resort at Atlantis Bahamas have an additional pool exclusively for them. Other Atlantis guests aren't able to access this pool, so it's more laid back than many of the other pools. Guests at the Harborside Resort can enjoy a large pool with children's area, hot-tub, and poolside games like shuffleboard.
10. Have a Once-In-A-Lifetime Dolphin Experience
For many kids and adults alike, a dolphin interaction is the highlight of their stay in Atlantis Bahamas. This is a one-of-a-kind experience which allows you to get up close to the dolphins and interact with the animals at length. We guarantee your kids will never forget it!
There are a few different options for those families looking to take part in a dolphin interaction. Our best bets are Dolphin Cay and the Dolphin Encounter. Dolphin Cay, the official Atlantis Dolphin experience, has a range of different packages which take place throughout the day. The Dolphin Encounter is located separately on Blue Lagoon Island, a 20 minute boat ride away from Paradise Island where the Harborside Resort at Atlantis Bahamas is located.
You can check out both to see which package is best for your family. Be sure to book a few weeks in advance, as these experiences are amongst the most popular at Atlantis and fill up quickly. These experiences can be expensive, and Mom and Dad might want to consider saving some money by booking the kids into one of the programs, and just paying the Observation Fee of $20 – $25 for themselves to watch.
With all these activities and more, we're sure you'll easily be able to fill a week or more at the Harborside Resort at Atlantis Bahamas. Young or old, there's something for all ages at Atlantis Bahamas, and we know it'll make for a vacation that your family will be talking about for years to come!