Did you know you can rent condos with fully equipped kitchens at Atlantis for less than many of the on-resort hotel rooms? The spacious condos at the Harborside Resort at Atlantis include full Atlantis access. Check out our availability today!
Travelers to the Caribbean are well aware of the high cost of food on the islands. Almost everything has to be shipped in and prices reflect those costs. The Bahamas are no exception. And with the vast array of expensive restaurants at Atlantis Bahamas, the resort has earned a reputation as a pricey place to dine.
We've gathered the best tips for dining so you can stay within your budget at Atlantis Bahamas. If you know where to go and plan ahead, you'll see that feeding the family while vacationing at Atlantis Bahamas doesn't have to break the bank.
Atlantis Resort Meal Plans
We are not big fans of the Atlantis Meal Plans.
The two plans include breakfast and dinner – but don't cover lunch, beverages, or the mandatory 15% tip. Every person on the room reservation must be on the same plan for your entire stay. To get your money's worth, everyone needs to eat a big breakfast and dinner every day – not something most families want to do. Even worse if you've got picky eaters on your hands!
There's nothing included in the meal plans that you can't purchase on your own, and it limits your family to dining on-resort at a typical sit down or buffet meal. There are many ways that families can save at Atlantis – without going hungry – that are not possible to take advantage of with the dining plans.
Casual Dining at Atlantis Bahamas Restaurants
The Atlantis Resort is known for its mouth watering selection of gourmet restaurants – from The Bahamian Club to Cafe Martinique. And yes, one can easily spend $75-$100 per person at these spots. However, there are also plenty of casual dining options that make much more sense for families on a budget.
In the Marina Village, try the Village Burger Shack for burgers and hot dogs or Frankie Gone Bananas at Bimini Road for Caribbean and American fare. On the Atlantis Resort Marina itself, there's Murray's Deli, and right on the lagoon there's Virgil's Real BBQ or the Lagoon Bar & Grill.
One of our favorite, family friendly restaurants is actually off resort, just across the street from the Atlantis Marina – Anthony's Grill.
The Point Restaurant at The Harborside at Atlantis is the closest restaurant for those staying at the Harborside condos, located next to the Harborside pool. The Point offers an affordable menu of Bahamian and American favorites with a breathtaking view of the Nassau Harbour. Plan a dinner here at sunset and thank us later.
Gourmet Dining At Atlantis Bahamas Restaurants
Try to set aside some of your budget for a splurge at one of Atlantis' Gourmet Restaurants. Our favorite for taste and price is Carmine's – a replica of the famous NYC Italian eatery. Yes, the entrees are about $40-$50 each, but they're huge family style portions to serve 3-4 people. Better yet, if you're staying at the Harborside condos, with a kitchen, you can over-order and bring back plenty of leftovers.
Bring It With You!
If you're staying in a place with kitchen facilities, like the Harborside condos, pack non-perishables from home. You probably won't be cooking big meals in your condo (you are on vacation after all!) but the savings and convenience of just being able to eat breakfast in your own condo can't be overestimated.
Related: check out our tips on eating in at your Harborside condo here.
Finally, The Atlantis Resort offers non-stop activities and there will certainly be some nights where you simply don't have the energy to get dressed and go out for dinner. For those times, a call to Domino's for pizza delivery to your condo is just the ticket.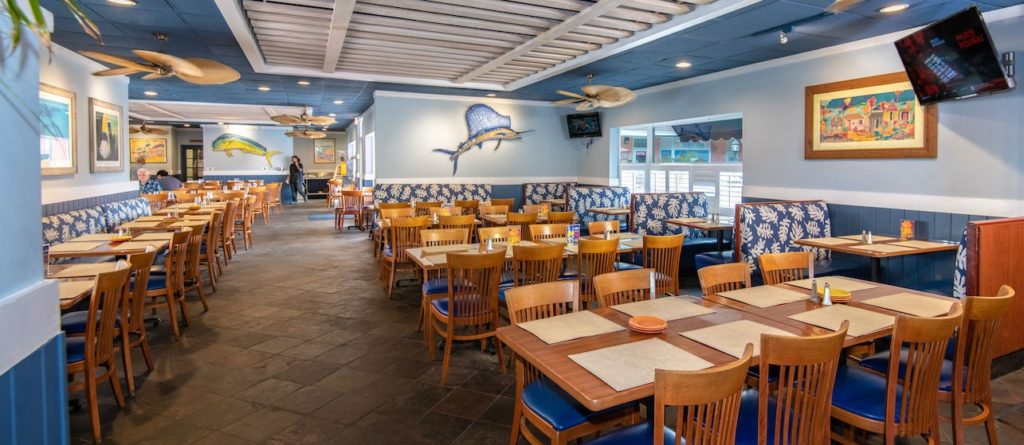 For more info on dining at Atlantis, check out The Unofficial Guide to Atlantis Bahamas, a new travel book for the Atlantis Resort released in 2020!