The holidays are the most popular time of year to visit the Atlantis Bahamas Resort, and with good reason. In addition to the usual Christmas and New Years festivities, the Bahamas also celebrates Junkanoo, a cultural celebration of Bahamian music and dance that dates back hundreds of years. If you're visiting the Atlantis Bahamas Resort during the holidays, you simply cannot miss Junkanoo!
What to Expect from Junkanoo at Atlantis Bahamas
Junkanoo takes place on December 26 and January 1 of each year, and is a vibrant cultural and national celebration that is unique to the Bahamas. The origins of Junkanoo are debated by historians, but as it is today, the event is a electrifying celebration of Bahamian culture not to be missed. You should expect extravagant costumes, lively dancing, and upbeat music. Take a look at this YouTube video to get an idea of what you'll be a part of!
Revelers spend months creating extravagant costumes in preparation for the street parades. In recent years, the event has evolved into a competition between several groups, each with thousands of members. This means that every year, revelers are coming up with exciting new costumes in a big to outdo each other!
When to See Junkanoo
The parades take place overnight. The main event takes place between 2:00am – 10:00am on Boxing Day, and there's another parade a week later to welcome in the New Year on New Year's Day. The parades take place on the streets of Downtown Nassau, right across the bridge from Paradise Island. You can watch for free from the streets, or you can buy tickets for the bleachers at Rawson Square, the focal point of the event where judging is held. A lot of restaurants and bars in Downtown Nassau stay open, and you can book tables here to relax and enjoy the parade with drinks and food.
How to Get There from Atlantis
If you're staying at the Atlantis Resort, it's only a short cab ride across the bridge into Nassau to see the festivities. Those staying at the Harborside Resort at Atlantis Bahamas will be closest to the parade. Downtown Nassau comes alive for Junkanoo, and there's no better way to experience authentic Bahamian culture than to attend. Even if you only check it out for a couple of hours before heading back to your room to sleep, you definitely should not miss Junkanoo.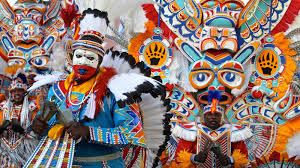 If you're not in Atlantis over the holidays, there are smaller Junkanoo Parades held once or twice a week at the Marina Village. The times for these vary, but you'll be able to see details on when they'll be held in the Daily Atlantean. You can experience the magic of Junkanoo at Atlantis Bahamas year round.
If you want to go to Atlantis over the holidays and experience the magic of Junkanoo, check out our Harborside Condo Rentals. We only have a few units remaining for the holidays – see our availability here!